3rd Annual Fall Gala & Silent Auction
I ♥ MC-NY
New York, NY - November 20, 2010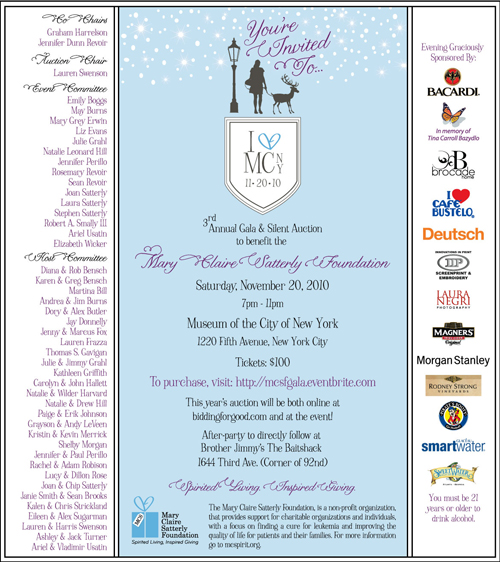 Event Information (Original Posting)
Who
Co-Chairs: Graham Harrelson & Jennifer Dunn Revoir
Auction Chair: Lauren Swenson
Event Committee: Emily Boggs, May Burns, Mary Grey Erwin, Liz Evans, Julie Grahl, Natalie Leonard Hill, Jennifer Perillo, Rosemary Revoir, Sean Revoir, Joan Satterly, Laura Satterly, Stephen Satterly, Robert A. Smalley III, Ariel Usatin, Elizabeth Wicker
Host Committee: Diana & Rob Bensch, Karen & Greg Bensch, Martina Bill, Andrea & Jim Burns, Dory & Alex Butler, Jay Donnelly, Jenny & Marcus Fox, Lauren Frazza, Thomas S. Gavigan, Julie & Jimmy Grahl, Kathleen Griffith, Caroline & John Hallet, Natalie & Wilder Harvard, Natalie & Drew Hil, Paige & Erik Johnson, Grayson & Andy LeVeen, Kristin & Kevin Merrick, Shelby Morgan, Jennifer & Paul Perillo, Rachel & Adam Robison, Lucy & Dillon Rose, Joan & Chip Satterly, Janie Smith & Sean Brooks, Kalen & Chris Strickland, Eileen & Alex Sugarman, Lauren & Harris Swenson, Ashley & Jack Turner, Ariel and Vladimir Usatin
What
On November 20th, The Mary Claire Satterly Foundation will host the 3rd Annual Fall Gala & Silent Auction to directly fund one of the country's most promising pediatric AML research scientists, Dr. Phoenix Ho.? At the Meshinchi Lab, a part of the Fred Hutchinson Cancer Research Center in Seattle, Washington, Dr. Ho spends every day researching a cure for pediatric AML leukemia. Worldwide, this lab is one of the single most prominent facilities doing research on pediatric AML biology.
Through funds raised, the Foundation will also launch the UNC Mary Claire Satterly Digital Art Therapy Program at MC's Playroom in Chapel Hill to improve the quality of life for pediatric cancer patients and continue to spread MC's creative and artistic passions to the youngsters at UNC... her favorite place on earth?
After a one-year hiatus (last year's event was held in Mary Claire's home state of North Carolina), the much-anticipated event will return to New York and the Museum of the City of New York will once again serve as the magical backdrop for this winter wonderland themed celebration.? This year's event will also grow beyond the confines of the museum walls and we will erect a large-scale tent on the veranda for a spirited evening that includes cocktails, hors devours, gift bags, silent auction and music by the Lee Olive Ensemble all under the stars. In addition, other select galleries will be available for viewing to all celebration attendees.
When
Saturday, November 20, 2010, 7:00 PM - 11:00 PM
Where
Museum of the City of New York
1220 Fifth Avenue (at 103rd Street)
NYC
Tickets: $100
To make a donation or to purchase your tickets, please visit
www.mcsfgala.eventbrite.com
Or send payment to
The Mary Claire Satterly Foundation
C/O: Graham Harrelson
186 West 80th St., Apartment 5H
New York, NY 10024
Attire: Cocktail/Festive
Spirited Living, Inspired Giving
The 3rd Annual Mary Claire Satterly Foundation Gala and Silent Auction is graciously sponsored by:
Bacardi, In Memory of Tina Carroll Bazydlo, Brocade Home, Deutsch, Innovations In Print, Laura Negri Photography, Magners Cider, Rodney Strong Wine Estates, Pirates Booty, SmartWater, and Sweetwater.
You must be 21 years or older to drink alcohol.
After Party
After-party to directly follow
Brother Jimmy's The Baitshack
1644 Third Avenue (Corner of 92nd)
Hospitality/Travel
The 3rd Annual Gala & Silent Auction is being held at the Museum of the City of New York on New York's Upper East Side. We just added more rooms to our hotel block at The Excelsior Hotel (http://www.excelsiorhotelny.com/index.asp). There are Standard Rooms and Suites for the nights of November 18 - 20, 2010.
Standard (2 Doubles, or 1 King) 265.00
Suite (2 Queens and a pull out couch) $355.00
*Rate is based on double occupancy each additional person over 12 yrs an additional $20
Taxes: 14.75% NYC and State tax plus $3.50 city occupancy for standard and $7.00 for a suite
All guests must either call 212-362-9200 or 800-368-4575, Monday-Friday 9am-5pm. In house reservations only (not through an online vendor). For reservations, all guests must reference the Mary Claire Satterly Foundation.
Directions to the Museum
By Bus
M1, M3, M4 or M106 to 104th Street
M2 to 101st Street
By Subway
#6 Lexington Avenue train to 103rd Street, walk three blocks west or
#2 or #3 train to Central Park North (110th Street), walk one block east to Fifth Avenue, then south to 103rd Street
Ramp access is available at the 104th Street entrance.
Parking Near the Museum
105th and Madison Avenue
97th Street and Third Avenue
95th Street and Third Avenue
95th Street between Third and Lexington Avenues
88th Street between Park and Madison Avenues
89th Street between Park and Madison Avenues
90th Street between Park and Madison Avenues
94th Street between Park and Madison Avenues
For more information on the Museum of the City of New York please visit: www.mcny.org
Contact Us