Elizabeth Anthony Wins 2011 "MCSpirit!" Scholarship
Elizabeth Anthony Wins 2011 "MCSpirit!" Scholarship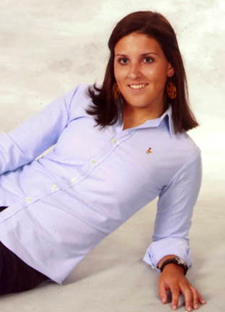 Elizabeth Anthony, a Hunt High School Senior, was awarded the second "MCSpirit!" Scholarship for $1,000.00.
When the Mary Claire Satterly Foundation was created in 2008 after Mary Claire's death from leukemia at age 27, its first goal was to establish ther Mary Claire Pediatric Playroom in the new UNC Lineberger Comprehensive Cancer Center in Chapel Hill.This past year the Foundation started an art therapy program in the playroom that it hopes to see expand to the Children's Hospital.The Foundation also gave a large research grant to a young doctor who is doing break through research in the fight against AML leukemia.
Another initial goal of the foundation was to establish the MC Spirit Scholarship in recognition of Satterly's accomplishments in journalism and advertising and her love for the arts.The scholarship would be presented yearly to a Wilson County high school senior who reflects a zest for life,a concern for others, and plans to major in liberal arts,journalism, or advertising. Elizabeth will be attending North Carolina State Universtiy in the fall and will be studying journalism.